Wikileaks Linked to US Intelligence and Spying Networks
4 December 2010
11,059 views
5 Comments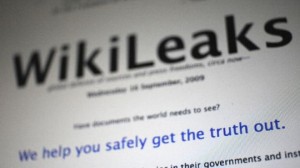 By the Editor.
Julian Assange's outright dismissal of the 9/11 cover-up as a 'false conspiracy' rang alarm bells with me. How could a purported 'whistleblower', claiming to be exposing the lies of corrupt governments shield the biggest lie of the 21st century from criticism? Anybody willing to do five minutes of research can uncover the trove of evidence suggesting a cover-up and lying at the highest levels of the US government with regards to 9/11. Especially a 'computer hacker' of world renown.
What kind of 'whistleblower' only leaks his scoops to corporate media outlets such as the Guardian, and New York Times, in the full knowledge that they are subject to editorial bias, censorship and omission? For a group ostensibly devoted to exposing the truth, Wikileaks' strategy is puzzling.
What kind of 'whistleblower' goes to these corporate outlets for live Q&A sessions, complete with a photoshoot, while the world's most tyrannical governments are supposedly hunting him down? The mere fact that Assange and Wikileaks are receiving such unprecedented promotion in the corporate media is something to be concerned about.
The fact that the leaks have overwhelmingly supported and bolstered the US-Israeli anti-Iranian propaganda efforts is somewhat less surprising in light of these facts. Still, the Left ignores this. Like dogs thrown a bone, progressives abandon critical thinking and brainlessly defend Assange purely because he's denounced by the elite. This is all part of the plan; denunciations from the politicians have the purpose of maintaining Assange and Wikileaks' credibility. Credibility that was originally cemented by the leak of Collateral Murder.
At the time of writing, Wikileaks has released only 842 cables out of over 250,000, a meagre 0.34%. Despite this, the pseudo Left is in a fever at finally learning the 'truth'. Wikileaks bears all the hallmarks of a limited hangout operation.
Wikileaks, Google, and the CIA
A company known as In-Q-Tel is a CIA venture capital firm that has the aim of maintaining the CIA's intelligence capabilities. See: http://www.iqt.org/about-iqt/history.html
In-Q-Tel sold 5,636 Google shares in 2005. The stocks were a result of Google's acquisition of Keyhole, the CIA funded satellite mapping software that we now know as Google Earth.
Earlier this year it was reported that In-Q-Tel and Google Ventures are buying Recorded Future, a web analytics and spying outfit whose software "scours tens of thousands of Web sites, blogs and Twitter accounts to find the relationships between people, organizations, actions and incidents". See: http://gcn.com/articles/2010/07/29/inqtel-google-fund-web-analysis-firm.aspx
See the Washington Post on Google's partnership with NSA: http://www.washingtonpost.com/wp-dyn/content/article/2010/02/03/AR2010020304057.html
So we've established that Google is in bed with the major US intelligence networks.
Now for the interesting part. A man named Ben Laurie is an Advisory Board member of Wikileaks: http://en.wikipedia.org/wiki/Ben_Laurie
He used to be a security boss at Google, and he is currently working for them in London.
See the references to his work at Google on his blog: http://www.links.org/
See his page on Google: http://www.google.com/research/pubs/author9639.html
So here we have a Wikileaks advisory board member working for a corporation that has partnered with the CIA to buy a firm specialising in software perfectly suited to spying, infiltration and COINTELPRO. Not to mention Google's partnership with the NSA which is ostensibly in the name of cyber security after cyber attacks it says 'originated in China'. The recently-leaked cables even suggested that China was behind the attacks (convenient huh?)
I don't know about you but I think this is a bit too close for comfort.

Wikileaks: Serving the Empire
Mark Stephens, Assange's lawyer, is a Freeman of the City of London – leading centre of global banking & finance:
http://business.timesonline.co.uk/tol/business/law/article3759409.ece
Stephens has represented corporate media heavyweights ABC, CNN, & The New York Times:
http://business.timesonline.co.uk/tol/business/law/student/article5516483.ece
Julian Assange has close links to the Economist, controlled by the Rothschild banking family:
http://empirestrikesblack.com/2010/12/wikileaks-founder-julian-assange-has-close-links-to-the-economist-controlled-by-the-rothschild-banking-family/
Wikileaks & The Guardian further the need for more neoliberal take-overs in Venezuela:
http://www.guardian.co.uk/world/2010/dec/09/wikileaks-oil-giants-squeeze-chavez
In the UK Independent, Israeli journalist Yossi Melman attributes the cablegate leaks to Mossad, MI6 & the CIA (read the first two paragraphs):
http://www.independent.co.uk/news/world/middle-east/yossi-melman-mossad-mi6-the-cia-and-the-case-of-the-assassinated-scientist-2146995.html
Wikileaked documents attempt to normalise the Iraq civilian death toll at 'massive' 66,000:
http://www.wired.com/dangerroom/2010/10/chemical-weapons-iranian-agents-and-massive-death-tolls-exposed-in-wikileaks-iraq-docs/