A note on the 'disappointed Palestinians' letter to Cynthia McKinney
22 June 2011
25,583 views
34 Comments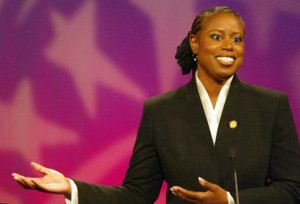 By the Editor. (Last updated 24 June 2011)
Yesterday yansoon.net published an 'Open Letter to Gaddafi Supporter Cynthia McKinney from Disappointed Palestinians'.  This group of completely anonymous 'disappointed Palestinians' slams McKinney for appearing on Libyan State TV and 'praising Gaddafi', as they put it.  What exactly gives these unknowns the right to speak on behalf of the Palestinian people is beyond me. Before I tackle this disingenuous letter, some background on Yansoon.
Yansoon claims to be a blog dedicated to providing news, opinion and analysis on Arab issues, primarily from young, progressive Arab perspectives.   There is no information about the people behind Yansoon however – the blog contains nothing on their founders and funders.
The blogroll featured on the front page provides a clue to Yansoon's general ideological leanings.  Listed here are pro-war Al Jazeera (along with a banner reading "Demand Al Jazeera in the USA"), Enough/Khalas! (enoughgaddafi.com), and Feb17.info.
Enough/Khalas! is a US-based group that was initiated by Libyan-Americans living in the United States.  What really exposes this group as an organ of the US is the fact that enoughgaddafi.com's webmaster is listed on the US State Department's Movements.org as the 'Twitter feed to follow'.
A March 22 article posted by Yansoon completely lays bare its support for the NATO war on Libya.  In a piece titled Why I Support Foreign Intervention in Libya, Sarah El Neweihi repeats a number of the lies and myths that were spread by the likes of Al Jazeera, Enough/Khalas!, and the Feb17 movement.
When a brutal dictator makes repetitive threats to his people on the radio that his well- equipped forces will hunt those who oppose him "dar, dar" (house by house) and "zenga, zenga" (street by street), and actually starts to follow through on these threats, he leaves no choice to the international community but to try to stop him from massacring his own people.
The full context of Gaddafi's words tell a very different story:
He said, "We will have no mercy on them" — but by "them," he plainly was referring to armed rebels ("traitors") who stand and fight, not all the city's inhabitants.

"We have left the way open to them," he said. "Escape. Let those who escape go forever." He pledged that "whoever hands over his weapons, stays at home without any weapons, whatever he did previously, he will be pardoned, protected."
Like Al Jazeera, Yansoon is not capable of providing a shred of evidence for either actual massacres of civilians, or a credible threat of impending massacres.  Instead, all they can do is offer the same old tired 'house by house' quote that the pro-war corporate media has parroted relentlessly.
Yansoon continues:
Also, the only reason the protesters took up arms in the first place was because they were being brutally attacked during their peaceful demonstrations.
Even an article that the editor boasts of as being 'anti-war', and which she heralds as demonstrating how balanced Yansoon is, repeats more of these known lies. Its writer, Simon Assaf, heaps gushing praise on the TNC, attempting to paint the civil war as a 'revolution', a popular movement. Any honest commentator knows that this is a civil war being backed on one side with NATO being the 'air arm' of the rebels (not to mention the NATO ground troops in Libya since February). It gets better still, with Assaf repeating the sensationalist 'massacre' stories (of course without feeling the need to prove anything):
"His attacks on civilians, the aerial bombardment of demonstrations, the mass round-up and executions"
Anybody who has put an iota of effort into doing some independent research knows that the Pentagon has admitted to having no confirmation of Gaddafi firing on civilians.  On top of this, the Russian military stated that the alleged 'airstrikes on protesters' reported by the BBC and Al Jazeera simply did not take place.  More on that here.
Another article published by Yansoon on March 21, titled Libya and the State of Humanity, makes bold claims of Gaddafi having killed 'somewhere around 8,000 civilians', but makes no attempt to prove anything, or provide a single source.
In her 'Libya 101 for Uninformed Americans', Shirien D. (the editor of Yansoon) writes a passage that would make Obama beam with pride, and Orwell turn in his grave:
The US didn't exactly declare war on Libya. The military intervention taking place is a multi-lateral intervention. The intervention is enforcement of the UN Security Council Resolution 1973, which supports a no-fly zone and air strikes against Muammar Gaddafi, the dictator of Libya. NATO is one of the foreign bodies enforcing the no-fly zone, and the US is heading the NATO intervention. Also, there are no ground troops in Libya. It's not a war in the same sense as the US wars in Afghanistan and Iraq.
You really have to read these articles in their entirety to grasp the level of dishonesty and downright barefaced hypocrisy.  Many other lies and popular talking points are repeated such as the ridiculous notion that the US-NATO-backed rebels are a popular representation of the Libyan people, and that "there are no troops on the ground".  Troops have been on the ground since February, and worrying signs are emerging that a full-scale invasion is on the cards.
The "disappointed Palestinians'" open letter is quite slickly written, and quite honestly it reads as if it could have been penned by a member of the US State Department.  The letter regurgitates the same lie that the rebels are a popular movement, it derides the Nation of Islam, repeats the propaganda about Gaddafi attacking civilians, and disingenuously paints the NATO-backed civil war as a 'revolution', but my favourite part is:
…you might support Gaddafi for ideological reasons, like Chavez or Castro.
It most certainly is curious that these anonymous 'Palestinians' choose to single out these two figures who have been more supportive of Palestine than most other leaders in the world.
It wouldn't be the first time that the Palestinian cause has been trotted out in order for the Libya war effort to garner the support of Palestine's (good-hearted) supporters in the West and the Arab world. In early March the Hebrew-language news site Inyan Merkazi reported that an Israeli company was supplying mercenaries to Gaddafi.  The company concerned, Global CST subsequently denied this and no evidence has surfaced to prove the 'Israeli mercenaries' claim. I'd argue that this claim was fabricated for a reason; the war propagandists behind it know that association with Israel is the kiss of death for any Arab leader.
Yansoon is unashamedly pro-war, and this anonymous letter from unknown 'disappointed Palestinians' raises a lot of questions. It's doing a damn good job of marginalising McKinney. As an ex-US Congresswoman and Presidential candidate she is the only high profile person giving the Libyans a voice, a voice that the Americans & NATO do not want to be heard. It's also doing a damn good job of aligning the anti-war pro-Palestine demographic in the West (and Arab world) behind NATO's war on Libya.
Considering the above and the fact that this letter reads like it was written by Hillary Clinton, one should be very cautious. I suspect there's a very good reason for these 'disappointed Palestinians' to be anonymous.
Update 1: 24 June 2011

Today Yansoon posted an 'Open Letter to Our Haters from the Founders of Yansoon'. Their hyperventilating diatribe accuses me of 'probably' being 'privileged' and 'white' (wrong and wrong). On top of this, they don't address any of the central issues here, and my response to them (just in case they refuse to publish it – it's still 'awaiting moderation') was as follows:

You have not addressed any of the substance of my article. Instead you've focused your letter on my observation that there is no info on Yansoon's founders/funders on the blog (albeit a legitimate question considering your pro-war pseudo-progressive stance).

"Those seem to be the only two questions we would be able to adequately answer," you got that right.

How about you address the real issues here? The fact that the articles Yansoon posts consistently repeat the same verified lies that have been used to justify the war on Libya. Your 'pro' and your 'anti' articles (as you put it) both repeat the same myths. If you wish me to elaborate on this, read my article again.

Because judging by this irrelevant response, you didn't read my article properly the first time. Or perhaps, as I suspect, you simply can't defend the lies you've been printing.
Update 2: 24 June 2011

Exactly as I had suspected, a matter of minutes after I posted my reply Yansoon refused to publish it, and disabled comments on the post. They added the following to the end of their letter. Notice their use of the very same "real issues" language that I used in my response:

P.S. Comments for this specific blog post will be disabled. We will no longer waste our time in petty debates that distract us from the real issues at hand and won't result in anything positive. Also, this isn't a matter of opinion. We said what we have to say. Keep it moving.