The Face of Thatcherism: Pensioners Die Whilst British Gas Reaps Record Profits from Price Hikes
25 February 2011
8,913 views
One Comment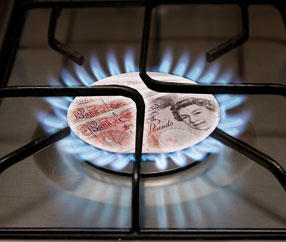 Thursday 24 February 2011by Louise Nousratpour.
British Gas was accused of engaging in "grotesque" profiteering while pensioners died from the winter cold after it revealed annual profits of £742 million today – just months after hiking its prices by 7 per cent.
British Gas's 24 per cent increase in shareholder profits will anger millions of consumers who saw the average dual-fuel bill increase from £1,157 to £1,239 last December.
The 7 per cent rise came as customers were forced to reach for the thermostat when the coldest weather in 100 years swept the country.
Friends of the Earth campaigner Dave Timms said it was "grotesque" that British Gas was making massive profits while millions were too poor to keep their homes warm.
He also slammed the coalition government's Green Deal to insulate Britain's homes as inadequate.
"The deal will leave many out in the cold unless it is part of a comprehensive plan to insulate all our homes, including a legal minimum energy efficiency standard for homes rented through a landlord or letting agency."
Public sector union Unison general secretary Dave Prentis said the record profits were "a slap in the face to customers hit with a price hike this winter, leaving them struggling to afford to heat their homes.
"Instead of raking in the profits, all the energy firms should step up to the plate, think about ways of helping their customers and make fuel more affordable."
Energy watchdog Ofgem is leading an investigation into the energy giants' balance sheets after discovering average profit margins had increased despite companies' claims they had no choice but to lift bills.
Ofgem found average margins on a standard dual-fuel tariff rose to £90 in November, from £65 in September.
Communist Party of Britain general secretary Rob Griffiths said: "This is David Cameron's big business society in action. Yet again the gas and electricity monopolies are driving up profits for shareholders, while millions of people in Britain live in fuel poverty.
"They way in which the likes of British Gas put shareholder profits before investment and people's needs further underlines the case for public ownership across the whole energy sector."
British Gas parent company Centrica also revealed a record haul today, as operating profits surged 29 per cent to £2.4 billion, mainly driven by its gas exploration operations.
Despite the bumper profits, Centrica boss Sam Laidlaw refused to rule out further increases in consumer bills, saying: "We're in a volatile situation with commodity prices and we will do all we can to keep bills as low as we can."
Ofgem could refer the industry to the Competition Commission for a formal inquiry once its investigation draws to a close next month.