UN Resolution in Libya is about Oil and their Central Banking System
18 March 2011
4,394 views
2 Comments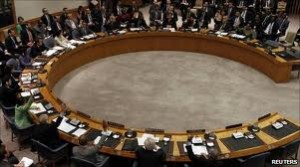 By Scott Creighton.
The UN Security Council passed the "no fly" resolution pertaining to Libya at around 6 pm this evening.  Five countries abstained from voting.
But in the resolution, we can see what this is all about; getting the oil and getting our network of privately owned central banks into Libya. They will chop up the nationalized oil company of Libya and hand over their central banking system as well.
"The resolution establishes "a ban on all flights in the airspace of the Libyan Arab Jamahiriya" while excluding an occupation force. It also calls for freezing the assets of the Libyan National Oil Corp. and the central bank because of links to Gadhafi."  MSNBC

"The Central Bank of Libya (CBL) is 100% state-owned and represents the monetary authority in The Great Socialist People's Libyan Arab Jamahiriya and enjoys the status of autonomous corporate body." Wikipedia
Now here is another interesting thing, while the announcement was made, a thousand armed contractors,  pretending to be "pro-democracy" forces in Libya, all started celebrating because the military support was on its way (as promised I suppose) and they all started waving the flag of the monarchy that existed in Libya prior to Gadhafi's rule.
"Thousands of anti-Gadhafi protesters in Benghazi watched the U.N. proceeding on an outdoor TV projector and celebrate the vote by firing guns in the air, setting off fireworks and waving flags from the monarchy era in celebration, Al Jazeera TV showed."  MSNBC
The monarchy days of Libya were from 51-69 during which time the British helped the King help themselves to the profits from the oil they found in 1959.
This sounds more like the fake "Green Revolution" in Iran with every passing minute.