Dare I say its name?
18 September 2011
11,067 views
One Comment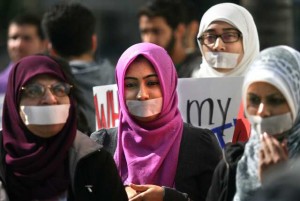 by Nahida, September 12, 2011.
The term White Supremacism defines the likes of KKK, of racists, neo-nazis etc, and projects a notion of wickedness and evil .
Wherever suitable, the term is used freely and without hesitation, generally by the Left, including the anti-Zionist Jewish Left. No one thinks twice before accurately using the term to portray anyone who claims that so called "White" people are superior to "people of colour".
In some instances, the term is used in association with those who express concerns that the cultural identity of their society might be threatened by immigration. In other instances, the term "White supremacist" is used against historians and researchers who raise uncomfortable questions about official historical narratives enforced by the establishment.
The Ku Klux Klan has been described as a Christian, as well as a white, supremacist group. So are many white supremacist groups in the United States today. George W. Bush's support for fundamentalist Christianity has been linked to his having a "Christian supremacist vision" in his policies in the Middle East.
The racist delusion of "White supremacy", is a reality involving generally unsavory individuals, overall a small fringe groups of white people. The term does NOT imply that all, or that most whites are supremacists.
The use of the term "White supremacists" in relation with precisely such people, is perfectly legitimate and legal, anyone can utter it when suitable without having to fear censorship, slander or smear. It seems pretty elementary that whomever uses the term to define people holding such "white supremacist" opinions, does by no means imply to be anti-whites or white-hater.
Under no circumstances would be Non-white people forbidden to criticise or discuss the problem of White-supremacism.
I never came across of a non-racist white person who would claim that the issue of "white-supremacy" is a "White-Only" issue, implying that only white people have the right to discuss, to examine or to expose "White-Supremacists". In fact the contrary is true, all non-racists are always encouraged to publicly discuss, oppose, and demonstrate against "White Supremacy", even within the main stream media.
The parallel between "White-Supremacy" and "Jewish Supremacy" is inevitable, both holding the same antiquated tenet of superiority of one ethnic and/or religious group over another, irrespective of the moral depravity of these claims and that science having debunked such racist proclamations as being pure bogus nonsense.
However, comparing the two reveals something that should be evident to anyone interested in humanity, society, progress, ethics, news, politics and affairs of state.