"International Zionism Is Strangling The World": Interview With Jonathan Azaziah
15 January 2012
21,537 views
One Comment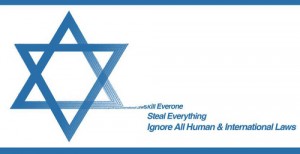 by Kourosh Ziabari.
Jonathan Azaziah is an Iraqi-American Muslim poet, activist, analyst, writer and journalist from Brooklyn, New York, currently residing in Florida. His articles, poems and music predominantly deal with international Zionism and the cruel effect that it has on the world's oppressed people. He is also a staff writer for Pakistan's premier alternative media outlet, Opinion Maker, and a frequent guest and co-host of the Crescent and Cross Solidarity Movement's Ugly Truth radio broadcast.
Jonathan took part in an enlightening, explosive interview with me and expressed his viewpoints regarding the renewed war threats of Israel against Iran, Tehran's nuclear program, the new allegations of the White House against Iran, the true nature of Israel as a state and what he feels is the greatest threat facing our world today. An excerpt of this interview appeared in the Tehran Times, Iran's leading international daily. 
Ziabari: Israel possesses up to 200 nuclear warheads, but it has constantly threatened Iran with a military strike over its nuclear program, warning that Iran should be prevented from acquiring nuclear technology. How is it possible to justify this stance?
Azaziah: The nucleus of the Zionist mindset, the energy source that drives those who think in this manner to behave like the inhuman monsters that they are, is Jewish supremacism; the need to destroy all that it is not Jewish, the goyim, in order for "the Jewish people" to survive. The developer of the neutron bomb, Samuel T. Cohen, was a Zionist with a strong Talmudic-Jewish upbringing, as was Robert J. Oppenheimer, the creator of the atom bomb. The supremacist-need to destroy all non-Jewish peoples and cultures was close to the blackened hearts of the early leaders of the usurping Zionist entity, hence why Ben-Gurion, Dayan, Eshkol and Peres collectively came up with the "Samson Option," the military plan to unleash 'Israeli' nukes upon the world if any nation or every nation attempted to confront Zionist power. The polar opposite of this thuggish outlook on existence, is the Islamic Revolutionary Republic of Iran, a nation whose Persian history is rooted in the very essence of creation. The finest poets, artists, mathematicians, scientists and theologians that the world has ever known originate from this great land.
The Zionist entity, in its twisted collective mind, must destroy Iran because the Islamic Republic represents everything that it is not: tolerant, beautiful, non-destructive, non-aggressive and most importantly, Godwary. Iran does not bow down to the feet of the Zionists and their rabbinical overlords, it only bows before Almighty God and for this, it has drawn the ire of the Zionists and their imperial conduit puppets. From the geopolitical perspective, the Zionist entity must not allow any Islamic nation to acquire nuclear weapons because that would neutralize its domination of the region; the annihilation of Iraq, the demolition of Libya and constant assault on nuclear-armed Pakistan are prime examples of this.